Oral surgery can be used to restore health and function and also to relieve pain. It can be a complex and even lengthy procedure that dentists and families have to go through. Our stomatologists and oral surgents are able to accommodate your preferences for comfort with a range of sedation options and all that under one roof.
A number of conditions may require oral surgery: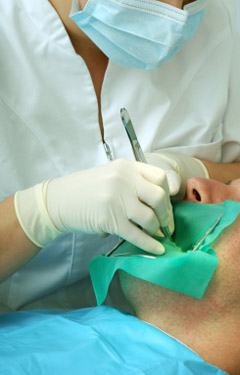 Sinus Lift
Apicectomy
Flap surgery with bone replacement including membrane
Dental Ridge leveling
Extractions
The most common reasons you might need an extraction are: 
Trauma to the tooth, Tooth decay, Extra teeth, Infection, Periodontal disease, Extraction of milk tooth.
Surgical Extraction 
Challenging dental extractions are often referred to an oral surgeon such as 
Impacted Wisdom tooth
Impacted Canine
Implants
Implants are artificial tooth roots placed into your jawbone to mount teeth onto them. Unlike dentures, implants are not removable and thus more comfortable because the patient can use them as well as the original tooth. Bridges must be attached to teeth on either side of the space left by the missing tooth. However, implants do not need any adjacent teeth to hold new replacement teeth in place.
Dental implants strengthen your smile and help boost your self-confidence. 
Scheduling an appointment has never been easier.  Reservations can be easily made via BLeisure DMC, using the Contact Button below.  
Our full-service destination management company will provide the best offer and attentive care that is tailored to each traveler. We would plan your whole trip in an original way whether, your travel to Nis or South & East Serbia is for business, leisure or medical purpose. 
For more schedule availability, simply submit your inquiry with the contact button below, and one of our team members will contact you to schedule your consultation.
Undefined